Super Columbine Massacre RPG (Danny Ledonne, 2005)
Do violent video games inspire horrific, violent acts in the real world? No one really knows for sure. Do horrific, violent acts in the real world inspire violent video games? Absolutely.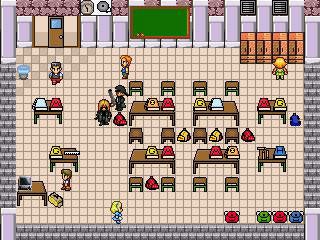 One of the most recent, Super Columbine Massacre RPG (or SCMRPG), re-created Eric Harris and Dylan Klebold's 1999 massacre at Columbine High School in Littleton, Colorado, from the perspective of the two disturbed teenagers. Deriving the game's content largely from video footage of the events, the pair's diaries, and quotes from various media figures, creator Danny Ledonne strove for a certain level of verisimilitude--though the part of the game where Harris and Klebold find themselves embarking on further adventures in Hell after their suicides is, presumably, conjecture.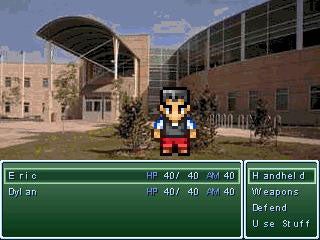 Like the developers of 
JFK Reloaded
, another re-creation of a historic murder, the creator of SCMRPG claimed lofty aims. On his 
Web site
--whose illegible look (blue and red text on a black background) is some sort of crime against good design itself--Ledonne says the game "asks more of its audience than rudimentary button-pushing and map navigation; it implores introspection." The site also links to press coverage of the game (typical example: the 
Denver Post
's "Columbine Game Makes Us Ill") and a forum for discussion of the game and the actual shootings.
Whether Ledonne's site has any constructive value whatsoever is still up in the air. But as a game, Super Columbine Massacre RPG is appalling. 
---