School Shooters Who Wore Personalized Shirts During Their Attacks
Eric Harris, 18, and Dylan Klebold, 17, the two perpetrators of the Columbine High School Massacre. On April 20, 1999, Harris and Klebold murdered 11 students and a teacher and injured 24 before committing suicide. During the attack, Klebold wore the black t-shirt on the left side of the photo, displaying the word "wrath", while Harris wore the "natural selection" t-shirt on the right. The two additionally wore black trench coats at the start of the shooting. 
18-year-old Pekka Eric Auvinen, perpetrator of the Jokela School Shooting, who wore his "humanity is overrated" shirt. In November of 2007 Auvinen shot and killed a total of 8 people, injured an additional 13, and subsequently shot himself in the head. Auvinen later succumbed to his wounds in a local hospital. This was the second school shooting to take place in the entirety of Finland's history.  
Tj Lane, aged 17 at the time of his attack, executed 3 of his male classmates and injured 3 more at Chardon High School. On February 7, 2012, the day of the shooting, Lane wielded a Ruger MK III .22 caliber semi-automatic handgun and wore a grey pull-over bearing the word "killer". 
Lane is shown here again, later in time, at court. He had scribbled the word "killer" on yet another shirt and concealed it. After entering the courtroom Lane discarded his dress-shirt, revealing what was underneath to the family members of those he had murdered. The judge present claimed to not have seen the atrocity, otherwise immediate action would have been taken. 
Vladislav Roslyakov was the eighteen-year-old perpetrator of the mass shooting at Kerch Polytechnic Institute on Wednesday, October 17th, 2018. The massacre resulted in the murder of 21 students and professors, more than 50 injured, and approximately 3 comatose. The shooting came to a close when Roslyakov ended his own life in the library. 
Roslyakov was donned in black jeans, a black hoodie (which was likely discarded before the events of the massacre), and a white short-sleeved shirt with black text across it, displaying the word 'ненависть'. ненависть, when translated to English, means 'hatred'. The suspect had also equipped himself with two bags, a grey one and black one. One of these bags, according to investigators, contained ten homemade bombs.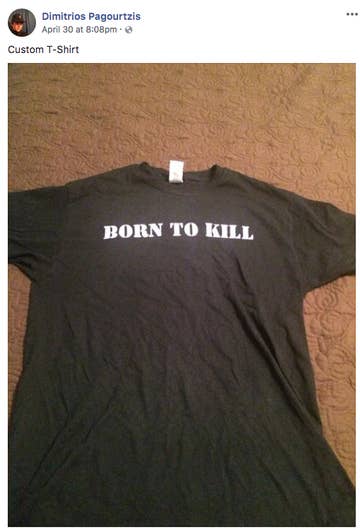 A school shooting occurred at Santa Fe High School in Santa Fe, Texas, United States, in the Houston metropolitan area, on May 18, 2018. Ten people – eight students and two teachers – were fatally shot, and thirteen others were wounded. The suspected shooter was taken into custody and later identified by police as Dimitrios Pagourtzis, a 17-year-old student at the school.
On his Facebook page, Pagourtzis posted a photo on April 30 that seems chilling in retrospect: a T-shirt spread out on a bed with the slogan "Born to Kill."
---